Film Tourism for Heritage Conservation and Promotion
The Case of Nrityagram, the First Indian Dance Village
Abstract
Film tourism has been recognized as a key instrument in the process of destination development and co-creation of tourist experiences. The promotion of any destination through films can result in attracting more visitors and subsequently, formulation of policies favoring that destination which aid in the conservation and promotion of the tangible and intangible cultural heritage of the place. In this context, this article analyses the case of Nrityagram, a village formed by the international community of Indian classical dancers. The work highlights the possibility that if promoted as a film tourism destination, Nrityagram can contribute to the promotion and conservation of Indian cultural dance, a form of intangible heritage. The work is primarily qualitative in nature and draws upon existing literature as well as the experiences gained from the field visit made to the said site.
References
Beeton, S. (2006). Understanding film-induced tourism. Tourism Analysis, 11(3), 181-188.
Beeton, S. (2016). Film-induced tourism (Vol. 16). Buffalo, Toronto: Channel view publications.
Bolan, P., & Davidson, K. (2005). Film induced tourism in Ireland: Exploring the potential. Paper presented at the Inaugural Tourism & Hospitality Research in Ireland Conference.
Bolan, P., & Williams, L. (2008). The role of image in service promotion: focusing on the influence of film on consumer choice within tourism. International Journal of Consumer Studies, 32(4), 382-390.
Buchmann, A., Moore, K., & Fisher, D. (2010). Experiencing film tourism: Authenticity & fellowship. Annals of Tourism Research, 37(1), 229-248.
Chandran, G., & Davar, S. (2019, Apr 29). International Dance Day: Abandoning the classical dance forms to jazz thing up. ANI News. Retrieved from https:// www.aninews.in/ news/ lifestyle/ culture/ international-dance-day-abandoning-the-classical-dance-forms-to-jazz-thing-up20190429100118/
Conn, V. S., Valentine, J. C., Cooper, H. M., & Rantz, M. J. (2003). Grey literature in meta-analyses. Nursing research, 52(4), 256-261.
Connell, J. (2012). Film tourism–Evolution, progress and prospects. Tourism management, 33(5), 1007-1029.
Croy, W. G. (2010). Planning for film tourism: Active destination image management. Tourism and hospitality planning & development, 7(1), 21-30.
Cynthia, D., & Beeton, S. (2009). Supporting independent film production through tourism collaboration. Tourism Review International, 13(2), 113-119.
Dore, L., & Crouch, G. I. (2003). Promoting destinations: An exploratory study of publicity programmes used by national tourism organisations. Journal of Vacation marketing, 9(2), 137-151.
Gaidhani, S., Arora, L., & Sharma, B. K. (2019). Understanding the attitude of generation Z towards workplace. International Journal of Management, Technology and Engineering, 9(1), 2804-2812.
Ghisoiu, M., Bolan, P., Gilmore, A., & Carruthers, C. (2017). "Conservation" and co-creation through film tourism at heritage sites: An initial focus on Northern Ireland. Revista Turismo & Desenvolvimento (RT&D)/Journal of Tourism & Development.
Hao, X., & Ryan, C. (2013). Interpretation, film language and tourist destinations: a case study of Hibiscus Town, China. Annals of Tourism Research, 42, 334-358.
Heitmann, S. (2010). Film tourism planning and development—questioning the role of stakeholders and sustainability. Tourism and hospitality planning & development, 7(1), 31-46.
Horner, S., & Swarbrooke, J. (2012). Leisure marketing: Routledge.
Hudson, S., Wang, Y., & Gil, S. M. (2011). The influence of a film on destination image and the desire to travel: a cross‐cultural comparison. International journal of tourism research, 13(2), 177-190.
Jain, P., Roy, E., Garud, N., & Mazid, I. (2019). Sexuality and substance abuse portrayals in item songs in Bollywood movies. South Asian Popular Culture, 17(1), 15-29.
Kim, S., Kim, S., & King, B. (2019). Nostalgia film tourism and its potential for destination development. Journal of Travel & Tourism Marketing, 36(2), 236-252.
Lee, S., Scott, D., & Kim, H. (2008). Celebrity fan involvement and destination perceptions. Annals of Tourism Research, 35(3), 809-832.
Martin-Jones, D. (2014). Film tourism as heritage tourism: Scotland, diaspora and The Da Vinci Code (2006). New Review of Film and Television Studies, 12(2), 156-177.
Mathisen, L., & Prebensen, N. K. (2013). Dramatizing an event through a promotional film: testing image effects. Journal of Travel & Tourism Marketing, 30(7), 672-689.
Pennacchia, M. (2015). Adaptation-induced tourism for consumers of literature on screen: the experience of Jane Austen fans. Almatourism-Journal of Tourism, Culture and Territorial Development, 6(4), 261-268.
Rewtrakunphaiboon, W. (2009). Film-induced tourism: Inventing a vacation to a location. BU Academic Review, 8(1), 33-42.
Riley, R. W., & Van Doren, C. S. (1992). Movies as tourism promotion: A 'pull-factor in a 'push location. Tourism Management, 13(3), 267-274.
Shresthova, S. (2011). Is it all about hips?: Around the world with Bollywood dance: SAGE Publishing India.
Sigala, M. (2016). Social media and the co-creation of tourism experiences. In The handbook of managing and marketing tourism experiences: Emerald Group Publishing Limited.
Statista. (2020). Value of the film industry in India from the financial year 2014 to 2019, with forecasts until 2024. Retrieved from https://www.statista.com/statistics/235837/value-of-the-film-industry-in-india/
Sulouff, P., Bell, S., Briden, J., Frontz, S., & Marshall, A. (2005). Learning about grey literature by interviewing subject librarians: A study at the University of Rochester. College & research libraries news, 66(7), 510-515.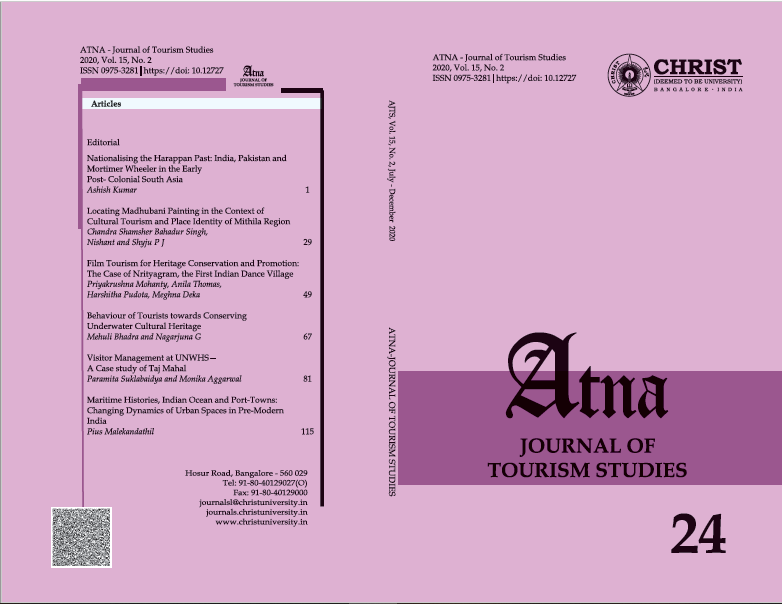 Downloads
How to Cite
Mohanty, P. ., Thomas, A. ., Pudota, H. ., & Deka, M. . (2020). Film Tourism for Heritage Conservation and Promotion: The Case of Nrityagram, the First Indian Dance Village. Atna Journal of Tourism Studies, 15(2), 49-66. https://doi.org/10.12727/ajts.24.3
License
Copyright (c) 2021 Atna Journal of Tourism Studies
This work is licensed under a Creative Commons Attribution-NonCommercial 4.0 International License.